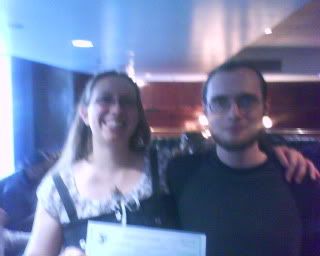 That's us, yesterday, at Ronny's Original Chicago Steakhouse. Steaks and Buds for both of us were only $20, because Ronny's was having a sale. The piece of paper I'm holding in the photo is a marriage license, which cost twice that. (Dave found a fellow restaurant patron who was willing to get our picture using Dave's phone, because it seemed to me that you-all would be slightly mollified if we at least had a picture.) So we have between now and Nov. 14th to get it signed by a judge or cleric and sent in to the Cook County officials. Perhaps we will keep the actual date a secret for awhile after the fact--but we are most certainly keeping it a secret before. This is going to be the most non-secret elopement it's possible to have, but it's still going to be an elopement. Because that's what we want to do. So there. At some point after the actual documents are official, when we can afford it and have agreed on a design, we're probably going to find us a good tattoo parlor and get our wedding rings. :D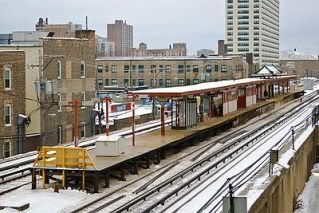 Immediately after food, we went north to see an apartment which I can actually afford on the money I'm making working at the deli. And as Dave pointed out, if he found a job in the neighborhood, we would be making significantly more than would be necessary to survive. We could, in other words, start doing cool stuff like debt service and savings. We'd still be living right next to a train line--just a different one. The one I take to get to work. Much, much closer to work. In a neighborhood that's actually slightly nicer than the one in which we currently reside. So depending on how fast we can get an appointment to see the leasing agent (and whether our execrable and/or nonexistent credit is adequate) we could, in theory, start moving our stuff into it while it's still September, and start paying rent Oct 1.
Now, if I were you, and if I read this from the other side of the interscreen, I can tell you what I'd be thinking right about now.

(And by "you" I mean "our friend or loved one, who quite likely knows us in real life and would have been invited to our large, public ritual for the acknowledgement of heterosexual life-partnerment, such as the one shown in the above photo I copied without permission from the website of a photographer apparently named Ian Haring, if in fact we were having one, which we are not, at least not at the traditional time in the process.")
If I were "you", I'd be thinking:
"Huzzah, good for them, and about freaking time!"
"Those sneaky jerks have forgone a large public ritual, thereby denying me and everyone else who knows them the opportunity for the vast exchange of social-structure and relationship information which the organization and performance of such a ritual exists, in large part, to expedite! How very rude, even if it is monetarily practical at the moment!"
See, this is why elopement is both frowned upon and attractive, depending on one's feelings about large, complex social relationships among large numbers of people. When many different relationships, some very intense, between a whole lot of people at the same time are all going to be altered by a single event, it makes good sense to mark that event with a public ritual. Just in terms of emotional and mental economy. That way everyone who has a stake in the event can symbolically communicate to everyone else involved what the event means to them, how their relationships with various other involved parties are going to change, and (just for garnish!) how they feel about the fact that it is happening. Furthermore, because these changing social realities are acknowledged publicly, simultaneously and symbolically, everyone has a much better chance of
remembering
who now means what to whom afterwards. The form of the ritual itself acts as a mnemonic device: common ceremonial elements serve as shorthand to describe relationships even to persons not within the social group but familiar with the culture. "Oh, do you know them well?" "Why yes, I [did X] at their wedding."
Also, too, it gives people an opportunity to express their love and support* in a highly condensed and reasonably approachable way.
So, if you feel you absolutely must do something to express your love and support**, by all means, please come and help us pack, help us move, come over and find stuff we're not going to be able to take with us and take it back to your dwelling with you***. Or you can, y'know, wait for us to give in to the inevitable and start planning a post-matrimonial party of some kind. Haven't talked it over with Dave yet, but I'm thinking Firstiversary Party. Has a nice sound to it, and is sufficiently far away****. ;)
Love and pez be unto all of you.
I for one am exceedingly***** happy.
* or their hatred and opposition
** or hatred and opposition
*** or call our prospective landlord and tell him nasty things about us, sneak into our current apartment at night to unpack our boxen, and leave behind large, badly damaged pieces of furniture
**** also, it now occurs to me, announcing a Firstiversary Party would require revealing the date of the actual marriage, which would be fun
***** but not, I think, excessively